Spircocerca is a dangerous worm that is potentially infecting dogs all over JHB. Read the attached article for more info about this nasty parasite & how to prevent it.

A fat animal is an unhealthy animal!
Being overweight predisposes your pet to (amongst others)  joint pain, diabetes, pancreatitis, raised blood pressure, increased anaesthetic risk, heart failure and respiratory complications. Feeding the right food at the right quantity, with the correct level of exercise is vital to your pets continued health. Feel free to ask us for advice about your pets weight.
Don't forget to check your pets teeth!
Bad breath is usually as a result of poor oral health. If your pets teeth are not sparkling white or if the gums are red (not pink) or bleed easily, then dental attention is probably required. We have a top-class dental set-up to help restore your pets' mouth back to optimal health (and pleasant smelling!!) Click HERE for a great article about your pets oral health.

Don't ignore a limp!
If your pet limps for more than 3 days, he/she needs to be seen.  Leaving a problem for longer can result in rapid progression of joint disease (arthritis).  Our modern X-ray facilities can aid in the diagnosis of many joint and bone related problems.
How often should I deworm my pet?
We recommend deworming dogs and cats every 3-4 months. The dewormers (which are available from our receptionists) are effective against all the major worm groups. This is especially important where young children are present, as potentially serious medical complications can arise from pet worm infestations in humans.
PS - it is also a good idea to deworm all the humans periodically as well!
Why is vaccination important?
Vaccination protects our pets against several potentially serious and even fatal diseases. In earlier years, these diseases caused great devastation and suffering, but are now largely preventable through vaccination. We can advise you on the correct vaccination schedule for your pets.
Does my pet need tick and flea control?
Ticks and fleas, besides causing pain and irritation can also transmit diseases. They are not always easily seen and can become a major problem in the household very quickly! Prevention is so much easier than cure. We have a range of very effective, easy to use products that will keep your pet free from these nasty parasites. Although less prevalent in winter, they are present all year round, so your pets should continue to receive treatment throughout the year. We do not recommend powders or shampoos as a form of prophylaxis as these do not provide any residual activity, and are not particularly effective.
GREAT NEW ARTICLE:

If you are looking for a great guide on how to brush your pets teeth, click on the link below. We keep a great range of toothbrushes, toothpaste and other dental treats for your pets optimal dental health.

Vet Articles
What is the brownish yellow discolouration on my pet's teeth?
Discoloured teeth in dogs and cats
Just like humans, dogs and cats have two different sets of teeth. The first set, known as the deciduous teeth or "baby teeth", erupt between three to six weeks of age. The permanent or "adult" teeth start erupting around three months of age and are all present around six months of age.

The teeth are also very similar in structure to human teeth, with the crown that sits above the gum line and the root which is located below the gum line. All teeth are made up of an outer protective coating of enamel. Enamel is a very hard structure that protects the more sensitive dentin. The dentin sits over the even more sensitive pulp cavity which contains nerves and bloods vessels, which nourish the tooth.




Periodontal disease in dogs and cats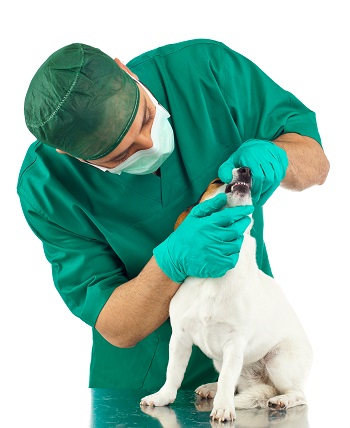 Dental Care
"My dog/cat has bad breath!" This is probably one of the most common complaints vets hear from pet owners. Halitosis (bad breath) can be caused by many things, but is most often related to dental disease.

Nowadays pets are part of the family. They sit next to us on the couch when we watch television, they sleep with us in our beds and we even take them on holiday – they are practically human! This means we take better care of them and they therefore live much longer. Fortunately, as a result of this close relationship, we notice problems like bad breath much earlier (one cannot help but smell something if you share your pillow with a furry friend) and we can do something about it so much sooner.





1