Spircocerca is a dangerous worm that is potentially infecting dogs all over JHB. Read the attached article for more info about this nasty parasite & how to prevent it.

A fat animal is an unhealthy animal!
Being overweight predisposes your pet to (amongst others)  joint pain, diabetes, pancreatitis, raised blood pressure, increased anaesthetic risk, heart failure and respiratory complications. Feeding the right food at the right quantity, with the correct level of exercise is vital to your pets continued health. Feel free to ask us for advice about your pets weight.
Don't forget to check your pets teeth!
Bad breath is usually as a result of poor oral health. If your pets teeth are not sparkling white or if the gums are red (not pink) or bleed easily, then dental attention is probably required. We have a top-class dental set-up to help restore your pets' mouth back to optimal health (and pleasant smelling!!) Click HERE for a great article about your pets oral health.

Don't ignore a limp!
If your pet limps for more than 3 days, he/she needs to be seen.  Leaving a problem for longer can result in rapid progression of joint disease (arthritis).  Our modern X-ray facilities can aid in the diagnosis of many joint and bone related problems.
How often should I deworm my pet?
We recommend deworming dogs and cats every 3-4 months. The dewormers (which are available from our receptionists) are effective against all the major worm groups. This is especially important where young children are present, as potentially serious medical complications can arise from pet worm infestations in humans.
PS - it is also a good idea to deworm all the humans periodically as well!
Why is vaccination important?
Vaccination protects our pets against several potentially serious and even fatal diseases. In earlier years, these diseases caused great devastation and suffering, but are now largely preventable through vaccination. We can advise you on the correct vaccination schedule for your pets.
Does my pet need tick and flea control?
Ticks and fleas, besides causing pain and irritation can also transmit diseases. They are not always easily seen and can become a major problem in the household very quickly! Prevention is so much easier than cure. We have a range of very effective, easy to use products that will keep your pet free from these nasty parasites. Although less prevalent in winter, they are present all year round, so your pets should continue to receive treatment throughout the year. We do not recommend powders or shampoos as a form of prophylaxis as these do not provide any residual activity, and are not particularly effective.
GREAT NEW ARTICLE:

If you are looking for a great guide on how to brush your pets teeth, click on the link below. We keep a great range of toothbrushes, toothpaste and other dental treats for your pets optimal dental health.

Vet Articles
My dog seems sore in its front leg
Elbow dysplasia in dogs
What is elbow dysplasia?
Elbow dysplasia is the collective term that describes a number of conditions that affect the growth and development of a dog's elbow. It is most commonly seen in large and giant breed dogs. Labradors, Golden Retrievers, German Shepherds and Rottweilers are the most common breeds but it can occur in any breed. There are a number of different theories as to why elbow dysplasia occurs but it is often a combination of factors, which leads to the abnormal development of the joint. Defects in cartilage growth, trauma to the joint, genetics, exercise and diet may all play a role in the development and progression of elbow dysplasia.




My cat is damaging my furniture by scratching it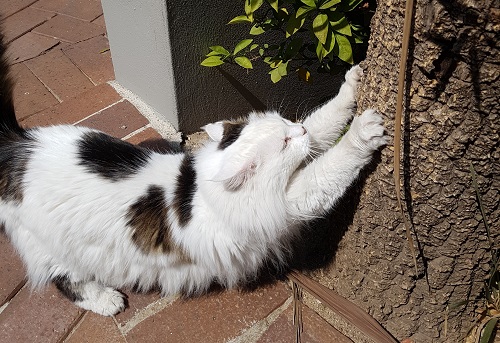 Should I declaw my cat?
Many people think that declawing a cat means that you cut the nails really, really short so that they do not have the capacity to grow again. Nothing could be further from the truth. When a cat is declawed, the greater part of the last digit of its toe is amputated. Cats' nails are attached to the last digit on their feet and one cannot effectively remove the nail, without also removing the greater part of the digit itself. There are muscles and tendons attaching to the bone of the last digit and some of the bone should be left intact for the foot to function normally after the procedure. If one was to do a similar procedure in a human, it will be like removing the tip of your finger just in front of the first knuckle.




My dog did not go out of the yard and is now limping lame on one of his hind legs
Anterior cruciate ligament rupture in dogs
Often time vets are confronted with this situation in veterinary clinics. As far as the owner knows their dog would not have been subject to any trauma, yet they can hardly take weight on one of their back legs. There are many possible causes but by far one of the most common reasons for this situation occurring is a tear of the major small ligament inside the knee.




Lameness in old dogs
Lameness
As a dog gets older, he or she may start to struggle to get up or get a little slower on walks. You may notice that they are worse in winter than in summer or after resting for a prolonged period. Sometimes they may not to be able to place any weight on a leg at all and this may happen quite suddenly. Lameness in older dogs can be broadly placed in three categories:




Lameness in young dogs
Lameness
Getting home to find your puppy or young dog not placing weight on a leg is always a concern. There are many different reasons why a young dog may limp, some more serious than others. Causes of lameness can be broadly placed into three different categories:
Lameness due to trauma
Developmental and congenital (inherited) lameness
Infectious causes of lameness and cancer
Because the causes of lameness can be so wide and varied, it is important to have your puppy looked at by the veterinarian sooner rather than later when you notice any signs of limping or lameness.




What causes back pain in dogs?
Disc disease in dogs
Introduction
Intervertebral disc disease is a term that describes the condition in which the softer cartilage like material in between the bones of the spine, called an intervertebral disc, pushes onto the spinal cord, causing clinical signs that varies from slight back pain and discomfort to complete paralysis of limbs. Even with the slightest clinical signs, your pet should be examined by the vet to establish how serious the condition is and be treated accordingly. The earlier this is attended to, the better the overall outcome.




Why is my dog limping with his hind leg?
Patellar Luxation
Patellar luxation is a condition where the knee cap does not run in its groove but slips off to the side. Luxation is a learned word for "slipping". It is a condition which is regularly encountered in dogs and more commonly in toy breeds. The condition can be developmental or traumatic in origin.

To understand the condition better, it helps to know what the anatomy of the knee looks like. The patella is commonly known as the knee cap and sits at the bottom of the big muscle group of the upper front part of the hind leg called the quadriceps. The patella makes up the front part of the knee and glides in the middle groove of the big bone of the upper part of the hind leg, the femur. This groove is known as the trochlear groove. The groove looks like a valley with two mountain ridges on either side. The ridges on either side of the groove are known as the trochlear ridges. The ridge on the inner part of the leg is known as the medial trochlear ridge and the one on the outer part is known as the lateral trochlear ridge. The knee cap or patella fits nicely in between these two ridges and glides up and down the groove as the knee bends. The patella is stabilised by the big muscle group to the top of it, the strong ligament to the bottom of it and the ligaments and connective tissue to the sides of it. The patella ligament which sits below the patella, implants onto the front of the top part of the bone underneath the femur, the tibia, also known as the shin bone.




Battle of the Bulge
Obesity
Most people, at some point in time, struggle to shed some extra weight. Obesity in humans has reached epidemic proportions and in a study released two years ago, South Africans were classified as the third fattest people on earth. Worse than this, is the fact that obesity in pets is following this trend and fast becoming a disease on its own. Some studies show that more than 50 % of pets are overweight. This alarming figure effectively means we are "killing our pets with kindness." Obesity is defined as an accumulation of excessive amounts of body fat. Body fat increases when the amount of energy taken in (by eating food) exceeds the amount of energy used (by exercising). Vets classify a pet as obese if the animal weighs more than 15 to 20 % of his/her ideal body weight. Body Mass Index or BMI which is commonly used in humans to define obesity is not commonly used in animals, because there is such a huge variation between and within different breeds. In animals, a Body Condition Score or BCS is referred to in terms of the animal's ideal weight.




Arthritis Treatment and prevention - Part 2 of 2
Arthritis
In part one of this two-part article, we looked at the signs and diagnoses of arthritis in pets. In this part of the article, we will look at the treatment and prevention of arthritis in pets. With the advancement of technology and medicine, arthritis is no longer a death sentence. Our beloved pets can benefit from a range of surgical and medical treatment. As mentioned in part one, it can never be stopped or cured but arthritis can definitely be managed and symptoms relieved to give your pet a pain-free life.




Arthritis Signs and Diagnoses - Part 1 of 2
Arthritis
So what happens when your beloved canine friend does not want to go for his walk anymore because he is too sore the next morning?

Unfortunately, older pets, and these days even puppies, get afflicted by a condition commonly known as joint disease. This is the same problem we as humans suffer from as well, better known as arthritis. In dogs and cats and more commonly in larger breed dogs, it is concentrated in the hip, knee, shoulder and elbow joints. The spinal column and back vertebrae (backbones) can also be affected.





1