Spircocerca is a dangerous worm that is potentially infecting dogs all over JHB. Read the attached article for more info about this nasty parasite & how to prevent it.

A fat animal is an unhealthy animal!
Being overweight predisposes your pet to (amongst others)  joint pain, diabetes, pancreatitis, raised blood pressure, increased anaesthetic risk, heart failure and respiratory complications. Feeding the right food at the right quantity, with the correct level of exercise is vital to your pets continued health. Feel free to ask us for advice about your pets weight.
Don't forget to check your pets teeth!
Bad breath is usually as a result of poor oral health. If your pets teeth are not sparkling white or if the gums are red (not pink) or bleed easily, then dental attention is probably required. We have a top-class dental set-up to help restore your pets' mouth back to optimal health (and pleasant smelling!!) Click HERE for a great article about your pets oral health.

Don't ignore a limp!
If your pet limps for more than 3 days, he/she needs to be seen.  Leaving a problem for longer can result in rapid progression of joint disease (arthritis).  Our modern X-ray facilities can aid in the diagnosis of many joint and bone related problems.
How often should I deworm my pet?
We recommend deworming dogs and cats every 3-4 months. The dewormers (which are available from our receptionists) are effective against all the major worm groups. This is especially important where young children are present, as potentially serious medical complications can arise from pet worm infestations in humans.
PS - it is also a good idea to deworm all the humans periodically as well!
Why is vaccination important?
Vaccination protects our pets against several potentially serious and even fatal diseases. In earlier years, these diseases caused great devastation and suffering, but are now largely preventable through vaccination. We can advise you on the correct vaccination schedule for your pets.
Does my pet need tick and flea control?
Ticks and fleas, besides causing pain and irritation can also transmit diseases. They are not always easily seen and can become a major problem in the household very quickly! Prevention is so much easier than cure. We have a range of very effective, easy to use products that will keep your pet free from these nasty parasites. Although less prevalent in winter, they are present all year round, so your pets should continue to receive treatment throughout the year. We do not recommend powders or shampoos as a form of prophylaxis as these do not provide any residual activity, and are not particularly effective.
GREAT NEW ARTICLE:

If you are looking for a great guide on how to brush your pets teeth, click on the link below. We keep a great range of toothbrushes, toothpaste and other dental treats for your pets optimal dental health.

Vet Articles
My cat is damaging my furniture by scratching it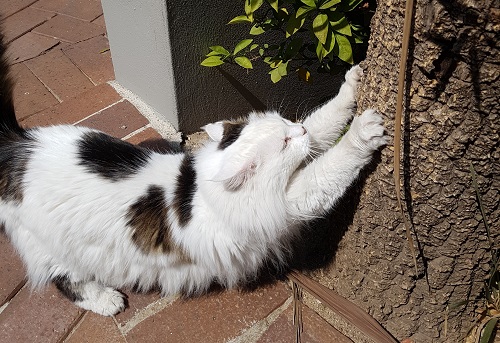 Should I declaw my cat?
Many people think that declawing a cat means that you cut the nails really, really short so that they do not have the capacity to grow again. Nothing could be further from the truth. When a cat is declawed, the greater part of the last digit of its toe is amputated. Cats' nails are attached to the last digit on their feet and one cannot effectively remove the nail, without also removing the greater part of the digit itself. There are muscles and tendons attaching to the bone of the last digit and some of the bone should be left intact for the foot to function normally after the procedure. If one was to do a similar procedure in a human, it will be like removing the tip of your finger just in front of the first knuckle.




My Boerboel with its long tail really looks strange. I much prefer a Boerboel with a short tail.
Tail Docking in dogs - Why we as vets do not routinely do it anymore
To start off with let's define what we are talking about when we are talking about tail docking in dogs.

Tail docking from a veterinary perspective refers to a surgical procedure done to puppies between the ages of 3 to 5 days old, where a portion or partial length of the tail is amputated or cut off with a scalpel or surgical scissors, bleeding is stopped by cauterisation or tying off of bleeding blood vessels with absorbable suture material, and placing a suture or sutures in the skin to close off the wound.




What is the brownish yellow discolouration on my pet's teeth?
Discoloured teeth in dogs and cats
Just like humans, dogs and cats have two different sets of teeth. The first set, known as the deciduous teeth or "baby teeth", erupt between three to six weeks of age. The permanent or "adult" teeth start erupting around three months of age and are all present around six months of age.

The teeth are also very similar in structure to human teeth, with the crown that sits above the gum line and the root which is located below the gum line. All teeth are made up of an outer protective coating of enamel. Enamel is a very hard structure that protects the more sensitive dentin. The dentin sits over the even more sensitive pulp cavity which contains nerves and bloods vessels, which nourish the tooth.




My dog makes a strange snorting sound with funny gagging movements almost like something is stuck in his/her throat.
Reverse Sneezing in dogs
What is reverse sneeze?
Reverse sneezing is repetitive, forceful inspiratory (breathing in) efforts generally caused by irritation of the lining of the naso-pharynx or area at the back of the mouth and nose where these two openings join into one. Unlike a normal sneeze where air is forcefully pushed out the nose to clear the irritation, a reverse sneeze involves air being pulled forcefully and rapidly into the nose. This is commonly seen in small and toy breeds breeds with long thin nasal passages like Miniature Pinchers, Toy Poms, Chihuahuas, Malteses, Dachshunds, Poodles, Yorkshire Terriers and other Terriers, etc., and brachycephalic (short nose) breeds like Pugs, Boston Terriers, Shih Tsus, Pekingeses, etc.




I found a loose stool with blood and what looks like jelly on the kitchen floor this morning - what do I do?
Acute and Chronic colitis in dogs and cats
What is Acute Colitis?
Acute colitis is a common condition in pets and is characterised by a sudden onset colonic inflammation with a diarrhoea that may contain mucous and/or fresh blood.
Clinical signs
The most common symptoms are straining when defecating, mucous (the jelly you noticed) and/or blood in the stool, and increased frequency of defecation. Systemic signs of illness are generally absent and most animals are still alert, active and have normal appetites in spite of having colitis.




Is Tick Fever and Tick Bite Fever the same disease in dogs?
Erlichiosis (Tick bite fever) in dogs
It is not. Tick fever or Babesios in dogs, is not the same disease as Tick bite fever or Erlichioses. Both diseases are transmitted to dogs by ticks, but they are caused by two totally different organisms or parasites and the clinical signs, progress and treatment are very different.

To further confuse the matter, Tick Bite Fever in humans is not the same as Tick Bite Fever in dogs and once again, although transmitted by ticks, is caused by a complete difference parasite. Tick Bite Fever in dogs is not transmissible to humans or vice versa.




What do I feed my dog, how much and when?
Nutrition in dogs: guidelines to a well-fed pooch
Feeding your dog an appropriate well balanced diet for its life stage is vital to good health and wellbeing. Nutrient requirements differ depending on the breed and age of the dog and there are a few important factors to take into consideration.

Many people see dogs and cats as a similar kind of animal and therefore it is useful to understand the difference between the two species to better understand how to feed your dog properly.




My dog's stomach is suddenly very bloated and he is very uncomfortable
The dreaded Gastric Dilatation and Volvulus (GDV) Syndrome - Twisted Stomach
Gastric Dilatation and Volvulus (GDV) is a rapidly progressive life-threatening condition in dogs characterised by bloating and twisting of the stomach. Patients admitted with suspected GDV are treated as an emergency as the condition is life threatening. Treatment may require medical and surgical intervention. It is commonly associated with large or giant breed, deep-chested animals between 2 and 10 years of age. Some breeds affected are German Shepherds, Rhodesian Ridgebacks, Great Danes, Dobermans, Irish Setters and Basset hounds but any breed and age can be affected.




My pet was hit by a car on its hindquarters
Pelvic Fractures
This article gives a simple overview of what to expect when a pet has a pelvic fracture, what are the most common causes and associated injuries, and what treatment options are available.

Pelvic Fractures are a fairly common occurrence and it is something veterinarians in private practice are faced with almost on a weekly basis. The pelvis is an essential part of a pet's skeletal structure and forms the framework around which their hind limbs move and function. Not only is it essential to our pets ability to walk but there are some very sensitive and important structures that lie in and around the pelvis which can easily be damaged in the event of a pelvic fracture. This will be explained in more detail later on in the article.




Can spaying your dog save her life?
Pyometra in dogs - the reason for spaying
Pyometra is a condition of unsterilised females, usually older than 6 years of age. "Pyo" refers to pus, and "metra" to the uterus. Literally translated, it would mean "bad of pus". It is a very serious condition and if left untreated for too long, can have deadly consequences. It can be treated very effectively if caught early and taking your animal to the vet when signs first appear can save its life.